Sammy's Rec Room, a favorite eatery of the roadfood-junkie in Brantford, Ont. home of Wayne Gretzky ,worlds greatest hockey player. I love the friendly com-padr'e right along with the good food, good service and reasonable prices. Sammy's is a rustic sports bar but it is also quite family oriented. Kids enjoy free soda refills.
What really makes Sammy's special besides the food, is the staff. When you walk through the door and get greeted with a cheerful "Hi Boys" you imagine yourself in the TV show, Cheers. Sammy's wife (Merri) remembers your preference of drinks and will most likely have it sitting in front of you, within seconds of seating.
Sammy's has been a huge success since opening day. Word of mouth advertising has been the key to success.
Visit Brantford,Ont. and take a tour of the Bell Homestead see exhibits of the Alexander Graham Bell's homestead and where the invention of the telephone took place. Then a approximately two miles north Stop at Sammy's for a bite and some of the best chicken wings out side of Buffalo.
All portions of food here are belly busters, perfect dining for seniors who like to take home a doggie bag. You will leave satisfied and full.
Of course, my all time favorite is their frosty 20oz mugs of Golden Horseshoe draft beer, only $3.70. Wednesday & Tuesday is Big Bloke days $7.99, a cold beer with a lb of chicken wings.They now have a Thursday steak special an excellent 8oz NY striploin for $10.95.
This is one place you can be sure that you will get value & good food with a smile.
Quote- Without a doubt the greatest invention in the history of mankind is beer. Oh, I grant you that the wheel was also a fine invention, but the wheel does not go nearly as well with chicken wings.
--Dave Barry
The Big Bloke Special; chicken wings & draught beer. Buffalo Wings hot are my preferred style and they manage to sauce mine perfectly.(not hot enough to be rude) These are not little fryer wings, they are big and meaty. Throw in a side of fries for $.99 and you will have all you can eat. They have many styles of sauce to choose for the wings. Order suicide, if you prefer pain.
A huge slab of meaty ribs and some chicken wings.A good deal at $11.99. Ribs are fall off the bone tender. Don't know what sauce they use, but it sure is good. So moist and tender, all a big eater can devour.
Ribs & Wings, what a beautiful sight. This is the half order, quite a bargain at $11.99.
Mouth watering tender ribs, a few hot buffalo wings, fresh cut french fries and a cold draft of golden horseshoe beer. Doesn't get much better than this, it is enough food for two roadfood junkies to share
If you have a real appetite for ribs; Saturday is the day for all you can eat ribs; a full rack of ribs and french fries for $14.95. It takes a pretty big eater to finish this platter of tender ribs. If you do manage to finish and still feel like more, they are available, but please - no doggy bags. Bigger than most full racks at other places. Priced at $10.99. They are fall off the bone tender and juicy,smothered in a finger licking smokey sauce.
Watching your waste line, have a hankering for lighter fare, try a chicken wrap.
Of course, if you are looking for a full count of cholesterol, try the Poutine. French fries smothered in gravy and cheese - artery clogging but good.
Or you could order one of these cloggers. A Cardiac Platter of wings, onion rings, fries and garlic bread w/cheese.
Fridays all you can eat fish and chips. One plate full is all most people can eat. They serve a huge portion of melt in the mouth Cod. I have never had to ask for more, that would be just plain cruel to my stomach.
It is for certain a Sammys hot dog will not fall in diet food category.
"Merri! Golden Horseshoe, for me and a Red Leaf for Alan"; as if we need to ask.
Sammy's happens to be one of my favorite places to visit with friends. It has that atmosphere that is hard to explain. But the food is without doubt a big draw. But so is the recognition and friendliness of the owners.
Here are a couple of lunch plates that you can compare to other eateries. At Sammy's you get value for your money.
This is a Half Rack of Ribs.
A steak wrap. Giant in size with a mountain of excellent fresh cut fries. For under $8.My Buddy said it was excellent.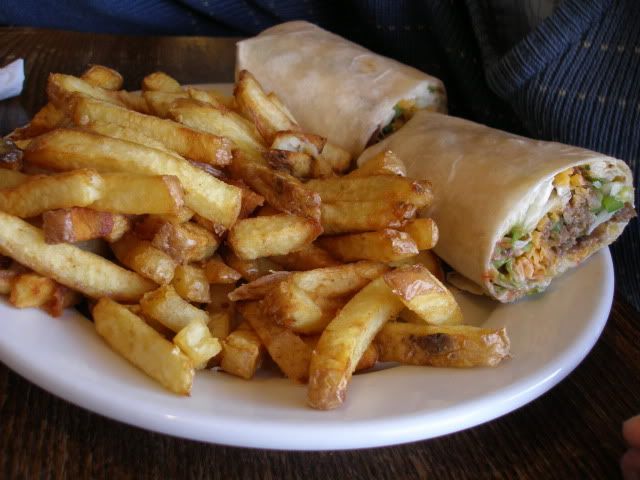 Quote- "Beer is proof that God loves us and wants us to be happy."
Benjamin Franklin, (1706-1790).